Tailored, energy efficient homes at affordable prices
Northern Show A Huge Success
Managing director Peter Body and technical director Jason Fraser share a moment with a happy customer on our stand at the Northern Homebuilding and Renovating Show in Harrogate.
The show was a huge success with a good number of visitors to the stand having done their research online, prior to event, fully prepared to discuss their requirements. We took this opportunity to showcase our EcoWall+dB wall construction (foreground right) which achieves a U-Value of just 0.09W/m2K – three times better than building regulation requirements and significantly better than Passivhaus elemental backstop value (which is matched by our standard EcoWall specification at 0.15W/m2K).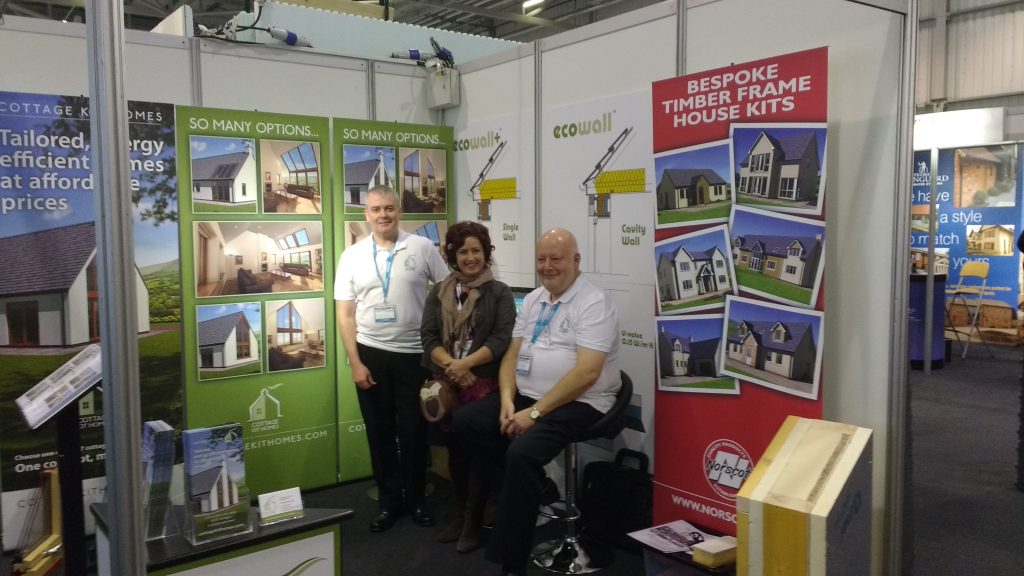 Councils Now Obliged To Keep Self-Build Register
Government confirms plans for councils to keep self build registers – Read More
Upturn In Self-Build Activity Predicted
Market researcher predicts buoyant self-build market despite recent slowdown – Read More
Minister Calls For More To Be Done For Self-Builders
'UK needs the right homes in the right places' says housing minister as scheme to build 13,000 new homes is described by critics as a 'drop in the ocean'. Read more.
Revealed: Housebuilders Sitting On 600,000 Plots
Revealed: Housebuilders Sitting On 600,000 Plots
More Sites For Self-Builders In Staffordshire
More Sites For Self-Builders In Staffordshire
Think Fabric First
Timber frame is the most popular form of construction for people building their own home. Not only is it quick and easy to build, it also provides the opportunity to maximise energy efficiency cost effectively. By using timber frame you can reduce energy consumption through improved thermal performance, air tightness and better insulation.
It makes sense, then, to think fabric first. Especially if you are working to a limited budget. Components such as internal doors, kitchen units and sanitary ware are often seen as fashion statements these days. Compared to the fabric of your home they can  readily be replaced and upgraded as your tastes change and funds permit.
By focusing on the fabric of your new home you will achieve a better return on your investment, whilst increasing your home's appeal to design and environmentally conscious buyers in the future.
House Building Is A Balancing Act
As a house designer, quantity surveyor and builder our managing director, Peter Body, is acutely aware of the conflicting forces involved in house building.
Unless money is no object, building a new house and getting help for Perfect interior design ideas for new homes will always be a balancing act which invariably results in compromise.
For most self-builders the primary aim will be to ensure value for money. First and foremost the build cost has to be affordable.
All too often self-builders start with a 'grand design' which they simply cannot afford. An easy way to test affordability is to use our Build Cost Calculator.
Invariably it's a simple matter of floor space. Controlling floor space is key to getting value for money. Think about how you will use the space.
For most people the dayrooms (sitting, dining, cooking spaces) are where they spend most of their time and where most emphasis should be placed on space.
Bedrooms, on the other hand, are used less and most of the time is spent in bed. So, why have big bedrooms, if space is at a premium.
Similarly, bathrooms and the like only need to be big enough to allow them to be used comfortably.
Small spaces, nicely decorated and furnished are no less attractive than big spaces.
There are also significant benefits to be gained by keeping circulation spaces such as hallways, which are essentially a waste of space, to an absolute minimum.
Keep It Simple Self-builders!
Self build should be an option for anyone who wants their own home. Unfortunately, TV shows like 'Grand Designs' make a drama of the whole process and feature homes which are beyond the grasp of most people. Consequently, a lot of people think it's just a dream!
'Never judge a book by its cover'. Wise words indeed. Whilst we understand the desire for 'kerb appeal', you need to be sure of your motives. Many external features and finishes simply add to the cost without adding any real benefit. By focusing on the inside you can create a comfortable home which provides all the accommodation you need, at a price you can afford.
Prices for the comprehensive Cottage Kit Homes package start at just £19,990*, delivered to site.  And, many of the designs can be built for an estimated cost below the 'magical' £100k* mark.
*Actual kit / build costs depend on your choice / size of Cottage Kit Home, optional extras selected and your location. The kit price quoted above is based on our standard specification. Please refer to our Build Cost Calculator for build costs.