Cottage Kit Homes incorporate the renowned VEKA range of uPVC window and door products as standard. Timber and aluminium clad timber composite options are available at additional cost.
Preferred Window Styles
Standard  (Side Hung or Top Hung*)

Diamond Leaded

Georgian Bar

Victorian  

Within certain parameters we can make windows to more or less any style, shape and size. However, individual windows are restricted to a maximum overall size of 3.0m wide x 2.1m high.
*In general, our preference is for side/top-hung casement windows. However, it is important to note that the maximum size for a side-hung sash is 600mm wide x 1500mm high and for a top-hung sash 1200mm wide x 1300mm high. Alternative window types available are the top-swing (outward opening / fully reversible) and tilt- turn (inward opening) – maximum sash size (for both) 1200mm wide x 1500mm high / 1500mm wide x 1200mm high.
Preferred Door Styles
Standard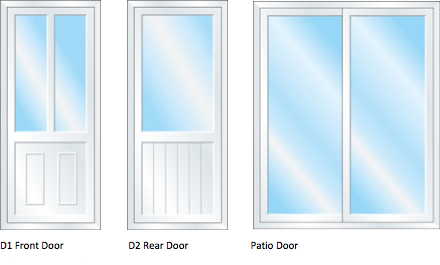 Optional Door Styles (At Extra Cost)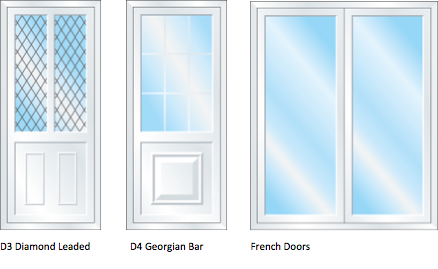 Many other door styles are available. Just let us know what you would like.
Door sets will be 1000mm wide x 2135mm high for single doors and may be up to 1800mm wide x 2135mm high for French doors. Sidelights are available, but a waste of money if too narrow.
The only patio door available is an in-line sliding type which can be manufactured up to 2400mm wide x 2135 high. Doors can be joined together and we can supply coupled sidelights to provide wider glazed areas. It should be noted, however, that openings over 3m wide may cause structural issues with lintels requiring intermediate support.